Past World Cup Results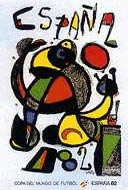 SPAIN 1982
Winners Italy 3-1 against West Germany
Expanded to 24 teams and yet another format, four three-team groups in the second stage of which the winners advanced to the semifinals, everyone outside West Germany must have been happy that they lost the final to Italy who with the 3-1 matched Brazil's three crowns.
Germany's reputation was dented at a 2-1 defeat to no-name Algeria. It worsened considerably when they beat Austria 1-0 in a game where both sides did nothing to change the scoreline and advanced at the exspense of Algeria.
The culmination was Toni Schumacher's infamous and unpenalized jump into the face of French player Patrick Battiston in the semifinal.
Ironically that thriller in Seville was Germany's best game of the tournament and enhanced their fighting-spirit reputation because they fought from 1-3 down in extra time to 3-3 and won the ensuing first ever World Cup penalty shootout 5-4.
Italy, meanwhile, improved after three draws in the first round mainly because of striker star Paolo Rossi.
He didn't score in the 2-1 win over holders Argentina with a young and disappointing Diego Maradona, but a hattrick for a shocking 3-2 upset over Brazil saw them into the semis where another two from Rossi got Italy into the final, 2-0 over a dull Polish side.
The decider turned out to be a lopsided affair against the shameful Germans around their injury-plagued star Karl-Heinz Rummenigge.
The 3-1 scoreline underlined Italy's dominance as the 40-year-old captain and goalkeeper Dino Zoff was handed the trophy.
- World Cup 1982 - results -
GROUP A
GROUP B
Poland - Italy
0:0
Algeria - W. Germany
2:1 (0:0)
Cameroon - Peru
0:0
Chile - Austria
2:1 (1:0)
Italy - Peru
1:1 (0:0)
W. Germany - Chile
4:1 (1:0)
Poland - Cameroon
0:0
Austria - Algeria
2:0 (0:0)
Poland - Peru
5:1 (0:0)
Algeria - Chile
3:2 (3:0)
Italy - Cameroon
1:1 (0:0)
W. Germany - Austria
1:0 (1:0)
GROUP C
GROUP D
Belgium - Argentina
1:0 (0:0)
England - France
3:1 (1:1)
Hungary - El Salvador
10:1 (3:0)
Czechoslovakia - Kuwait
1:1 (1:0)
Argentina - Hungary
4:1 (2:0)
England - Czechoslovakia
2:0 (0:0)
Belgium - El Salvador
1:0 (1:0)
France - Kuwait
4:1 (2:0)
Hungary - Belgium
1:1 (1:0)
Czechoslovakia - France
1:1 (0:0)
Argentina - El Salvador
2:0 (1:0)
England - Kuwait
1:0 (1:0)
GROUP E
GROUP F
Spain - Honduras
1:1 (0:1)
Brasil - USSR
2:1 (0:1)
N. Ireland - Yugoslavia
0:0
Scotland - New Zealand
5:2 (3:0)
Spain - Yugoslavia
2:1 (1:1)
Brasil - Scotland
4:1 (1:1)
N. Ireland - Honduras
1:1 (1:0)
USSR - New Zealand
3:0 (1:0)
Yugoslavia - Honduras
1:0 (0:0)
Scotland - USSR
2:2 (1:0)
N. Ireland - Spain
1:0 (0:0)
Brasil - New Zealand
4:0 (2:0)
ROUND 2 - GROUP 1
ROUND 2 - GROUP 2
Poland - Belgium
3:0 (2:0)
England - W. Germany
0:0
USSR - Belgium
1:0 (0:0)
W. Germany - Spain
2:1 (0:0)
Poland - USSR
0:0
England - Spain
0:0
ROUND 2 - GROUP 3
ROUND 2 - GROUP 4
Italy - Argentina
2:1 (0:0)
France - Austria
1:0 (1:0)
Brasil - Argentina
3:1 (1:0)
Austria - N. Ireland
2:2 (0:1)
Italy - Brasil
3:2 (2:1)
France - N. Ireland
4:1 (1:0)
SEMIFINALS
Italy - Poland
2:0 (1:0)
W. Germany - France
3:3 (1:1, 1:1)
penalties: 5:4
3. PLACE GAME
Poland - France
3:2 (2:1)
FINAL
Italy - W. Germany
3:1 (0:0)



For all your Football tickets and events from around the globe be sure to check out Finaltickets.com. Specialising in tickets that are normally considered hard to find. We have the lot so dont forget that's www.finaltickets.com. Click here to visit www.finaltickets.com

2010 World Cup Tickets - 2010 World Cup cities - World Cup History - 2010 World Cup News - Latest Global Football News
Speed up your search with these links - FootballWorldCupweb.com or SoccerWorldCupweb.com