2010 World cup
2010 Home ~ 2010 Overview ~ 2010 World Cup fixtures
2010 Host Stadium Links
-
World cup cities in brief
Soccer City (FNB stadium)
-
Ellis Park
-
Loftus Versfeld
-
Royal Bafokeng
-
Nelson Mandela Bay
Vodacom Park
-
Peter Mokaba
-
King Senzangakhona
-
Green Point
-
Mbombela Stadium
Peter Mokaba Stadium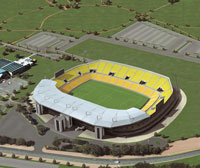 City: Polokwane
Opened: 1976
Capacity: 40,000
Distance from city centre: 5km
The Peter Mokaba Stadium is situated in Polokwane, the capital of the Limpopo province in the north of South Africa. It currently serves as a football stadium and an international athletics venue. The stadium comprises only a main stand and three grass banks at the moment, but it will be upgraded in preparation for the 2010 FIFA World Cup.
Plans are for the grass embankments to be built up to enable them to accomodate 20 rows of FIFA approved bucket seating. A new roof will be built which will cover the entire western side of the stadium. An electronic scoreboard, new floodlights, high quality sound system, fire protection and security system will be installed.
This will ensure that the stadium will meet all the FIFA requirements and be a valuable venue both for the 2010 World Cup and the future.




For all your Football tickets and events from around the globe be sure to check out Finaltickets.com. Specialising in tickets that are normally considered hard to find. We have the lot so dont forget that's www.finaltickets.com. Click here to visit www.finaltickets.com

2010 World Cup Tickets - 2010 World Cup cities - World Cup History - 2010 World Cup News - Latest Global Football News
Speed up your search with these links - FootballWorldCupweb.com or SoccerWorldCupweb.com