2010 World cup
2010 Home ~ 2010 Overview ~ 2010 World Cup fixtures
2010 Host Stadium Links
-
World cup cities in brief
Soccer City (FNB stadium)
-
Ellis Park
-
Loftus Versfeld
-
Royal Bafokeng
-
Nelson Mandela Bay
Vodacom Park
-
Peter Mokaba
-
King Senzangakhona
-
Green Point
-
Mbombela Stadium
Nelson Mandela Bay Stadium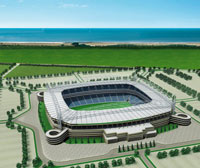 City: Port Elizabeth
Scheduled date of completion: June 2007
Capacity: 49,500
The proposed stadium for Port Elizabeth will be an entirely new construction. The current stadium has been deemed unsuitable for upgrade and so a new football stadium is envisaged, which will be incorporated within a multi-purpose facility specifically designed to serve the community.
The Nelson Mandela Bay Stadium will be a high-tech, modern venue and will meet every requirement needed to provide a world class venue for the first and second round matches of the 2010 World Cup.
SAFA has determined that all new stadiums be built with the aim of becoming profitable and sustainable ventures that will add value to the community. The Nelson Mandela Bay Stadium will be located two kilometres from the coast, close to the N2 highway and no more than fifteen minutes' drive from the city's main hotel sector.



For all your Football tickets and events from around the globe be sure to check out Finaltickets.com. Specialising in tickets that are normally considered hard to find. We have the lot so dont forget that's www.finaltickets.com. Click here to visit www.finaltickets.com

2010 World Cup Tickets - 2010 World Cup cities - World Cup History - 2010 World Cup News - Latest Global Football News
Speed up your search with these links - FootballWorldCupweb.com or SoccerWorldCupweb.com