2010 World cup
2010 Home ~ 2010 Overview ~ 2010 World Cup fixtures
2010 Host Stadium Links
-
World cup cities in brief
Soccer City (FNB stadium)
-
Ellis Park
-
Loftus Versfeld
-
Royal Bafokeng
-
Nelson Mandela Bay
Vodacom Park
-
Peter Mokaba
-
King Senzangakhona
-
Green Point
-
Mbombela Stadium
Loftus Versfeld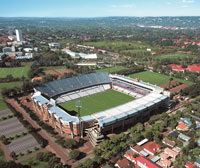 City: Pretoria
Opened: 1906
Completion of 2010 upgrade: April 2005
Capacity: 45,000
Distance from city centre: 2km
Loftus Vesfeld was named in memory of ex-sports administrator Mr Loftus Versfeld, who suffered a heart attack in the east stand in 1938.
To qualify for selection as a first and second round venue the floodlights, sound system and scoreboard will be upgraded and designated media areas will be constructed in the lower level of the west stand.
It is the homeground of the Sundowns Football Club, one of South Africa's premiere professional clubs. It has always been a major rugby venue, with football only being allowed to be played since the end of the apartheid era, marking a significant change in the thinking and attitudes of South Africans.
Since 1977 Loftus Versfeld has undergone many renovations and its four major stands have been completely rebuilt. Loftus boasts the country's finest corporate hospitality facilities and will only have to undergo minimal upgrades in order to meet FIFA's stringent requirements for the 2010 FIFA World Cup.
It is also home to the Bulls rugby team in the Super 14 rugby tournament.




For all your Football tickets and events from around the globe be sure to check out Finaltickets.com. Specialising in tickets that are normally considered hard to find. We have the lot so dont forget that's www.finaltickets.com. Click here to visit www.finaltickets.com

2010 World Cup Tickets - 2010 World Cup cities - World Cup History - 2010 World Cup News - Latest Global Football News
Speed up your search with these links - FootballWorldCupweb.com or SoccerWorldCupweb.com