2010 World cup
2010 Home ~ 2010 Overview ~ 2010 World Cup fixtures
2010 Host Stadium Links
-
World cup cities in brief
Soccer City (FNB stadium)
-
Ellis Park
-
Loftus Versfeld
-
Royal Bafokeng
-
Nelson Mandela Bay
Vodacom Park
-
Peter Mokaba
-
King Senzangakhona
-
Green Point
-
Mbombela Stadium
Ellis Park Stadium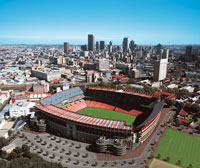 City: Johannesburg
Built: 1928
Reopened following upgrade: June 2005
Proposed 2010 Capacity: 70,000 (currently 60,000)
Distance from city centre: 3km
Ellis Park is a world class sporting venue. Home to the final of the 1995 Rugby World Cup, this is where South Africa beat New Zealand during extra time in what was probably one of the most thrilling rugby matches ever.
Ellis Park is a major venue in South Africa. It has been proposed as a semi-final venue for the 2010 FIFA World Cup, but will have to undergo some renovations to fullfill all the FIFA requirements. New upper tiers will have to be constructed behind each goal, adding an extra 10,000 seats and bringing the seating capacity to 70,000. Ellis Park will then meet every requirement to be accepted as a venue for one of the semi-final matches.
Today Ellis Park is home to the Lions, the Cats, Kaizer Chiefs Football Club and is also the premier concert venue in South Africa.
Manchester United and Arsenal are two major clubs to have graced the turf, and the stadium has hosted South Africa's national team on many celebrated occasions.



For all your Football tickets and events from around the globe be sure to check out Finaltickets.com. Specialising in tickets that are normally considered hard to find. We have the lot so dont forget that's www.finaltickets.com. Click here to visit www.finaltickets.com

2010 World Cup Tickets - 2010 World Cup cities - World Cup History - 2010 World Cup News - Latest Global Football News
Speed up your search with these links - FootballWorldCupweb.com or SoccerWorldCupweb.com